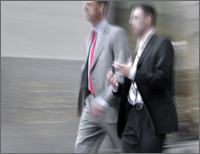 "This class will be very useful, giving great practical analysis of ways to communicate and persuade, and help move my positions along in all parts of my life, professionally and personally."
Michael Jaskolsky,
Quarles & Brady
"Very interesting content that made me think about the PROCESS of negotiation in aways I hadn't before. Essential for all attorneys."
Leah W. Sprague,
Attorney
"It is hard to come up with something fresh in a negotiation course. This one offers several gems."
J. Stanton Curry,
Gallagher & Kennedy
"Helpful to manage client relationships - particularly the more challenging relationships."
Sara Popovich,
Fragomen, Del Rey, Bernsen & Loewy
"In a very convenient succinct manner, The Likeable Lawyer conveys critical components of being effective at leadership and persuasion."
Jean Tuffet,
Attorney