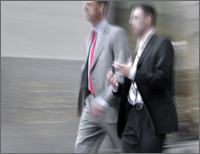 "One of the best ethics seminars I have seen in a long time. The examples and scenarios effectively illustrated the points made. Exceeded my expectations. "
Kate Patterson,
Patterson Ehrhardt, PLLC
"This course gives a thoughtful and well-grounded analysis of persuasion theory. Very insightful."
Lee Mickus,
Taylor Anderson LLP
"The class exceeded my expectations in providing clear tools for any litigator to be more persuasive and effective in negotiating and arguing on behalf of clients."
Randy Canche,
Munsch, Hardt, Kopf & Harr
"The Basis of Influence Series was exceptional. The speaker did a great job bringing in useful resources, leadership principles and interesting applicable examples. "
Terri Daugherty,
Luther-Anderson
"The class had a lot of practical application and was valuable in that it gave practical pointers about how to best serve our clients. Implementation of this advice would better the reputation of lawyers as a profession. "
Tasha Pepper Dickinson,
Jones, Foster, Johnston & Stubbs