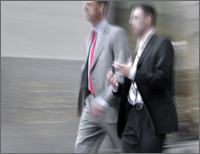 "Exceeded my expectations. Excellent in all respects."
Michael Vary,
Jones Day
"I found this CLE course to be thought-provoking, beneficial and practical, both as a litigator and as managing partner of my law firm. It far exceeded my expectations."
Melody Hurdle Eagan,
Lightfoot Franklin & White, LLC
"The class exceeded my expectations in providing clear tools for any litigator to be more persuasive and effective in negotiating and arguing on behalf of clients."
Randy Canche,
Munsch, Hardt, Kopf & Harr
"This was the most valuable CLE course I've ever attended, focusing on the core of our profession—service for our clients."
Maggie Doyle,
Hensel Phelps Construction Co.
"This course demonstrates the importance of pathos in persuasion with realistic examples of how communication and negotiation can go awry, and how it can be righted."
Christine Dehney,
Attorney