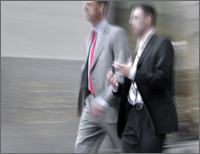 "A very interesting, insightful presentation. The seminar flew by."
Dan Pinkston,
U.S. Department of Justice
"Fantastic class. Definite eye opener."
Adam Tamas,
Attorney, DST Systems
"The course was excellent, insightful and lent itself to immediate application."
Tracee Lewis,
Baker Botts
"Inspirational on high levels, both practical and down to earth. Every lawyer (as well as their family members, co-workers, bosses and subordinates) would benefit from this course. "
Charlene Li,
Attorney
"Engaging and articulate facilitator, clear and well organized presentation, great content. "
James Ficaro,
The Weiser Law Firm