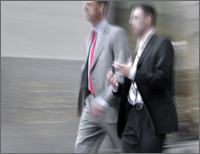 "An excellent course for understanding the "customer service" aspect of representing clients--it is not all about case citations, pure knowledge, or experience. It is about earning client trust first and foremost. Highly recommended. "
Jim Franklin,
Schroeder & Griffith
"One of the best classes I have attended. It was very thought-provoking with real-world scenarios and important human/emotional insights which will be useful in dealing with clients."
Henry Koltys,
Mediation for Resolution
"The Trusted Lawyer is helpful to any lawyer who wants to build trust with clients, colleagues and opposing counsel."
Bryan Tyson,
Marcellino & Tyson, PLLC
"I was pleasantly surprised with the depth or probing of human motivations and the promotion of seeking win-win resolutions, a trait that I find sorely missing in the profession."
Mark Baker,
Attorney
"Excellent course. Surprisingly relevant to all aspects of my practice and my life."
Tracy Forsythe,
Attorney