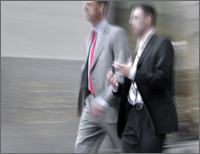 "Fantastic, helpful and insightful ... different from any previous CLE class I have taken."
Michael Schwartz,
Attorney
"The program content is suited well for lawyers no matter what area of practice. Both in handling client relationships and adversary relationships with other lawyers. It is a good value. "
James P. Burnett,
Lutz, Burnett, McDermott, Jahn & King
"If I were king of the world, courses like this would be mandatory. This course will help to make me not just a better lawyer, but a more effective communicator with family, friends and others."
Eric Rathburn,
Attorney
"Very informative and effective seminar! One of my favorites!"
Mary Ellen Spiece,
Wilkes & McHugh
"One of the best ethics seminars I have seen in a long time. The examples and scenarios effectively illustrated the points made. Exceeded my expectations. "
Kate Patterson,
Patterson Ehrhardt, PLLC