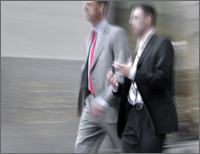 "Excellent examination of the solutions for client satisfaction that are often over-looked during representation."
Ryan Thompson,
Godin & Baity
"The class was well-written and presented, and a good use of my time. The communication and persuasion "basics" were a timely reminder that almost any lawyer could use."
Jill Livingston,
Attorney, McDonald's Corporation
"This seminar is critical for every person who wants to succeed in the practice of law and understand and overcome the challenges inherent with representing clients."
Guy Brown,
Attorney
"This course is an eye and ear opener. Common pitfalls with clients will be easier to spot and more easily remedied after taking this seminar."
Alexis Johnson,
Attorney
"The class was very enjoyable. It contains real life insight into how to effectively deal with everyone I deal with in the practice of law."
Deborah Truitt,
Truitt and Lyons