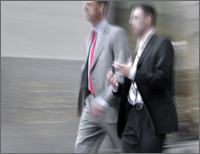 "This seminar is critical for every person who wants to succeed in the practice of law and understand and overcome the challenges inherent with representing clients."
Guy Brown,
Attorney
"Interesting topic for a CLE and passionate presenters. I will benefit from this in all facets of my life, personal as well as professional. "
Jerry Stehlik,
Bucknell Stehlik Sato & Stubner, LLP
"One of the best—and certainly the most practical—seminars I have taken on negotiation."
Paige Williams,
FedEx Corp. Legal Dept.
"The most interesting and useful MCLE courses I have ever taken in my 20+ years of taking courses."
Jeremy Katz,
Pinnacle Law Group
"The class was very enjoyable. It contains real life insight into how to effectively deal with everyone I deal with in the practice of law."
Deborah Truitt,
Truitt and Lyons