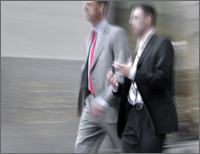 "A fun and engaging discussion that was very relevant and way better than most CLEs."
Mark Asbill,
Wells Fargo Legel Department
"I was thrilled to find CLE courses that actually focused on the human dimensions of legal competence. The courses I took did not disappoint and were full of both theoretical and practical nuggets I have not seen in any other CLE courses."
Jane Ruddell,
Attorney, Health Care Resolutions
"Classes like this -- on human interactions -- are as valuable as any substantive CLE we might take. Interacting with people is fundamental to what we do. The legal profession needs more of this type of teaching. The program is very well curated, and Brian does an excellent job."
Michael Hamilton,
DLA Piper LLP
"Class content exceeded my expectations. I signed up merely to check off required professionalism credits, and came away with several practical tips that will be useful in my practice."
Louann Bronstein,
Stites & Harbison
"The entire Basis of Influence series has exceeded my expectations and it is life-altering. Very worthwhile!"
Susan Valentine,
Robinson, Curley and Clayton