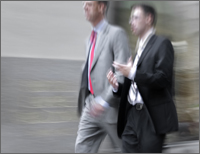 "Course draws out the salesperson in every lawyer and equips them with the tools to be an effective rainmaker."
William Gutierrez,
Carr McClellan Ingersoll Thompson & Horn
"Great information you can adopt to create your own business development plan and helpful idea on how to manage your time and put your plan into action."
Stephanie Harrison,
Coats Rose Yale Ryman & Lee
"Prospero JD is very useful from an educational and accountability perspective. "
Gerald Cowden,
Partner, Cowden Humphrey
"I needed some fresh marketing inspiration. The class delivered."
John Harding,
Harding & Associates
"Even though I have been marketing my law practice for over 24 years, I came away from this course armed with new information I am sure will assist me to further my client development goals."
Stewart Reubens,
Grancell, Lebovitz, Stander, Reubens & Thomas