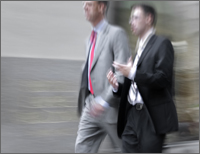 "I found this CLE course to be thought-provoking, beneficial and practical, both as a litigator and as managing partner of my law firm. It far exceeded my expectations."
Melody Hurdle Eagan,
Lightfoot Franklin & White, LLC
"Extremely practical how-to course filled with useful negotiation tools. Provides insight into diagnosing the needs of your negotiation opponent that will allow you to increase the chances of obtaining successful outcomes."
Shawn Doorhy,
Faegre Baker Daniels LLP
"Excellent aid in a high-stress environment. Very interesting and helpful. More importantly, it kept my attention. This guy offers quite a few insights that you might not ever think of."
David G. Utley,
Davis & Young
"Very good content and the webinar is a pleasant way to earn CLE credits."
James Adams,
Frost, Brown, Todd
"Interesting and unique content. This course addressed topics that lawyers need to address, how we perceive and are perceived by others. Refreshing and informative!"
Lucia McLaren,
Johnson Becker, PLLC