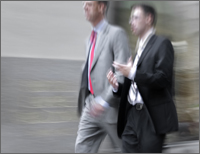 "This class provided tools for dealing with conflict arising from difficult personalities and will help me better navigate such situations and achieve better results for my clients."
David Powers,
Rose Harrison & Gilreath
"Deceptively good. Better than I anticipated."
Blair Parker,
Parker and Edwards
"This course offers very practical and easily implemented tools to improve your influence with others and the quality of your legal practice."
Darrin Jeffries,
Plattner, Schneidman & Schneider
"I thought it would be another dry ethics and professionalism course, but it was the most exciting and practical course I have attended."
Richard Crollett,
New Mexico Workers' Compensation Administration
"Great material presented in an easy, straight-forward manner to enhance professional relationships with clients, staff and colleagues."
Robert Piacente,
Fagen, Friedman & Fulprost