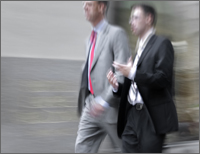 "The program exceeded my expectations. I found the speakers very engaging and maintained strong group participation. The Likeable Lawyer programs offer flexibility in meeting CLE requirements combined with the ambiance of a discussion among a small group of peers."
Dale Clemence,
Booz Allen Hamilton
"Provides a helpful framework for understanding other interested parties in order to improve resolution of legal disputes, negotiations and interactions."
Christopher Kennedy,
Baker Botts
"I was surprised by how interesting and different this class was from typical CLE courses. It was a lot more intellectual and captivating than most."
Amber Kauffman,
Sessoms & Rogers
"Excellent aid in a high-stress environment. Very interesting and helpful. More importantly, it kept my attention. This guy offers quite a few insights that you might not ever think of."
David G. Utley,
Davis & Young
"This program is terrific, the content outstanding. It provided step-by-step advice about how to create a more successful and rewarding law practice."
Elizabeth Thompson,
Jones Bothwell Dion & Thompson