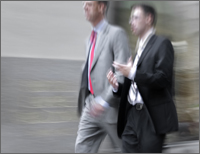 "Provides a helpful framework for understanding other interested parties in order to improve resolution of legal disputes, negotiations and interactions."
Christopher Kennedy,
Baker Botts
"I came to this class because I needed ethics credit and got a lot more! This class was quite a surprise and far exceeded my expectations."
John Stewart,
Attorney, Intellectual Ventures
"Excellent course. Surprisingly relevant to all aspects of my practice and my life."
Tracy Forsythe,
Attorney
"Fantastic class. Definite eye opener."
Adam Tamas,
Attorney, DST Systems
"You will negotiate better after taking this course. I liked the seamless relation of Aristotelian principles to the neuroscience of what gets people to agree."
Marie Jordan,
Attorney, JP Morgan Chase