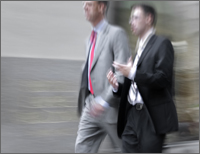 "Class content exceeded my expectations. I signed up merely to check off required professionalism credits, and came away with several practical tips that will be useful in my practice."
Louann Bronstein,
Stites & Harbison
"Excellent examination of the solutions for client satisfaction that are often over-looked during representation."
Ryan Thompson,
Godin & Baity
"Packed with new information most attorneys have never heard regarding negotiating skills."
Timothy Garflield,
Schwartz, Heidel Sullivan
"I love your seminars! Best CLE there is! I have been attending CLE since it was first required in Pennsylvania which was many, many years ago. Yours are, without question, the most enjoyable and informative."
Virginia Lederman ,
Associate University Counsel, Temple University
"As a college professor, I am keenly aware that it is just as important in the delivery of information as it is in the content of that which is being delivered. I am pleased to say that The Likeable Lawyer was successful in creating a confluence where the two met with remarkable results."
Sherman Anderson,
Attorney