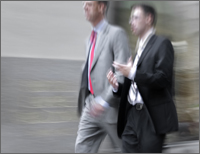 "This is my third or fourth course with the Likeable Lawyer. Just like with my previous experiences, this course caused me to think about an aspect of representing real people - being aware of my clients' expectations that is often forgotten, taken for granted, or assumed to be handled. Thank you for giving me new skills to help me meet and exceed client expectations. "
Lucia McLaren,
Johnson Becker
"Provides a helpful framework for understanding other interested parties in order to improve resolution of legal disputes, negotiations and interactions."
Christopher Kennedy,
Baker Botts
"Excellent balance of applicable knowledge with real world examples. A fun way to satisfy CLE requirements from my desktop. The instructor was prepared and easy to follow."
James Hall,
Hall Johnson LLC
"Packed with new information most attorneys have never heard regarding negotiating skills."
Timothy Garflield,
Schwartz, Heidel Sullivan
"Deceptively good. Better than I anticipated."
Blair Parker,
Parker and Edwards