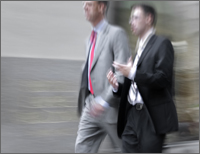 "I was surprised by how interesting and different this class was from typical CLE courses. It was a lot more intellectual and captivating than most."
Amber Kauffman,
Sessoms & Rogers
"The class had a lot of practical content and challenged me in concrete and believable ways."
John Shenk,
Ervin, Cohen and Jessup
"The class content exceeded my expectations and caused me to think about the kind of person I come across as, which is important but not a subject lawyers are usually trained on."
John Lamb, Attorney,
Caterpillar Financial Services
"The course taught practical guidance and helpful reminders on effective lawyering, and did so in a surprisingly interesting and motivational way."
Lynne Lagarde,
Earl, Curley & Lagarde
"The class had a lot of practical application and was valuable in that it gave practical pointers about how to best serve our clients. Implementation of this advice would better the reputation of lawyers as a profession. "
Tasha Pepper Dickinson,
Jones, Foster, Johnston & Stubbs