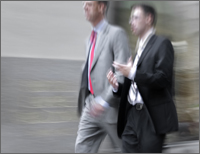 "This was the most valuable CLE course I've ever attended, focusing on the core of our profession—service for our clients."
Maggie Doyle,
Hensel Phelps Construction Co.
"Another excellent seminar from The Likeable Lawyer. The concepts learned are as important—no, more important—than the latest legislative or appellate update. Very useful and enlightening."
James Johnson,
Lommen, Abdo, Cole, King & Stageberg
"Very interesting and informative CLE. One of the best that I have participated in."
Chris Bergeman,
Righi Law Group
"Provides a helpful framework for understanding other interested parties in order to improve resolution of legal disputes, negotiations and interactions."
Christopher Kennedy,
Baker Botts
"This course offers very practical and easily implemented tools to improve your influence with others and the quality of your legal practice."
Darrin Jeffries,
Plattner, Schneidman & Schneider