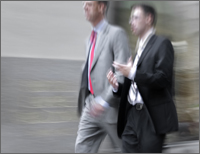 "Excellent. Makes you reevaluate your interactions with other lawyers. staff and clients towards becoming more successful as a lawyer and person."
Brad Goodwin,
Attorney
"Excellent course. Surprisingly relevant to all aspects of my practice and my life."
Tracy Forsythe,
Attorney
"This was the least "legal" but perhaps the most applicable seminar I have attended in a long time. I loved the interactive element of it."
Chris Graebe,
Graebe Hanna & Sullivan
"The entire Basis of Influence series has exceeded my expectations and it is life-altering. Very worthwhile!"
Susan Valentine,
Robinson, Curley and Clayton
"One of the best—and certainly the most practical—seminars I have taken on negotiation."
Paige Williams,
FedEx Corp. Legal Dept.