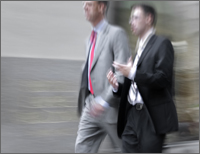 "Helpful to manage client relationships - particularly the more challenging relationships."
Sara Popovich,
Fragomen, Del Rey, Bernsen & Loewy
"The value of this class is extremely high."
Kenneth A. Miller III,
Miller Law Offices PLLC
"This class will be very useful, giving great practical analysis of ways to communicate and persuade, and help move my positions along in all parts of my life, professionally and personally."
Michael Jaskolsky,
Quarles & Brady
"Class content exceeded my expectations. I signed up merely to check off required professionalism credits, and came away with several practical tips that will be useful in my practice."
Louann Bronstein,
Stites & Harbison
"Absolutely fabulous CLE! The Basis of Influence Series is very thoughtful and tackles interpersonal relationships that lawyers encounter. The lessons will greatly affect the practice of law for anyone and these topics are not often approached or discussed."
Jane Harvey,
Attorney