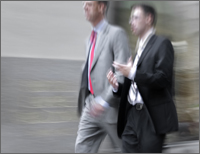 "As with the other courses that I have taken with this CLE provider, I found the information contained in this course to be exceedingly relevant in my current practice areas."
Corey Thompson,
Attorney
"This class will be very useful, giving great practical analysis of ways to communicate and persuade, and help move my positions along in all parts of my life, professionally and personally."
Michael Jaskolsky,
Quarles & Brady
"Very enlightening."
Randi Ordetx,
Attorney, New York Times
"Excellent. Makes you reevaluate your interactions with other lawyers. staff and clients towards becoming more successful as a lawyer and person."
Brad Goodwin,
Attorney
"Great material presented in an easy, straight-forward manner to enhance professional relationships with clients, staff and colleagues."
Robert Piacente,
Fagen, Friedman & Fulprost