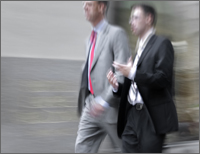 "Very good value. Valuable and dynamic material. The course exceeded my expectations."
Mary Bittence,
Baker & Hostetler
"Excellent balance of applicable knowledge with real world examples. A fun way to satisfy CLE requirements from my desktop. The instructor was prepared and easy to follow."
James Hall,
Hall Johnson LLC
"I found the seminar to provide very useful insights into people's perceptions of each other and important ideas about how to communicate more clearly and effectively. I would recommend the course to anyone."
Angus King ,
Former Governor of Maine
"I was thrilled to find CLE courses that actually focused on the human dimensions of legal competence. The courses I took did not disappoint and were full of both theoretical and practical nuggets I have not seen in any other CLE courses."
Jane Ruddell,
Attorney, Health Care Resolutions
"This course demonstrates the importance of pathos in persuasion with realistic examples of how communication and negotiation can go awry, and how it can be righted."
Christine Dehney,
Attorney