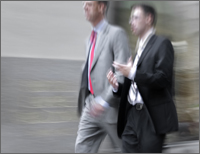 "Packed with new information most attorneys have never heard regarding negotiating skills."
Timothy Garflield,
Schwartz, Heidel Sullivan
"The course was excellent, insightful and lent itself to immediate application."
Tracee Lewis,
Baker Botts
"I thought it would be another dry ethics and professionalism course, but it was the most exciting and practical course I have attended."
Richard Crollett,
New Mexico Workers' Compensation Administration
"This was the most valuable CLE course I've ever attended, focusing on the core of our profession—service for our clients."
Maggie Doyle,
Hensel Phelps Construction Co.
"One of the best—and certainly the most practical—seminars I have taken on negotiation."
Paige Williams,
FedEx Corp. Legal Dept.