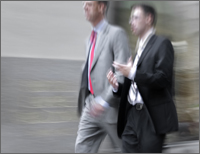 "This is my third or fourth course with the Likeable Lawyer. Just like with my previous experiences, this course caused me to think about an aspect of representing real people - being aware of my clients' expectations that is often forgotten, taken for granted, or assumed to be handled. Thank you for giving me new skills to help me meet and exceed client expectations. "
Lucia McLaren,
Johnson Becker
"Great seminar—outstanding presenter!"
Ian Bradford,
Attorney, Fisher-Price
"Excellent course. Surprisingly relevant to all aspects of my practice and my life."
Tracy Forsythe,
Attorney
"This class provides strategies for dealing with staff, superiors, adversaries and people in general that are workable and memorable, and can help better manage a stressful practice."
Denise Carlon,
Zucker, Goldberg & Ackerman
"The program content is suited well for lawyers no matter what area of practice. Both in handling client relationships and adversary relationships with other lawyers. It is a good value. "
James P. Burnett,
Lutz, Burnett, McDermott, Jahn & King