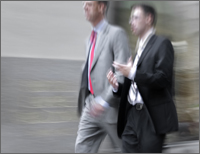 "One of the best—and certainly the most practical—seminars I have taken on negotiation."
Paige Williams,
FedEx Corp. Legal Dept.
"This class will be very useful, giving great practical analysis of ways to communicate and persuade, and help move my positions along in all parts of my life, professionally and personally."
Michael Jaskolsky,
Quarles & Brady
"This was one of the best CLEs I have ever attended in 20+ years of practice. The substantive content was meaningful and can be applied immediately to both legal and personal interactions. A refreshing change from the "norm" of presenters reading their PowerPoint slides."
Lois Eisenstein,
Attorney, University of Arizona
"Exceeded my expectations! Best ethics-related course I've ever taken."
Solomon Hunter,
Pepper Hamilton
"The class content exceeded my expectations and caused me to think about the kind of person I come across as, which is important but not a subject lawyers are usually trained on."
John Lamb, Attorney,
Caterpillar Financial Services