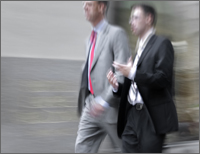 "Interesting and unique content. This course addressed topics that lawyers need to address, how we perceive and are perceived by others. Refreshing and informative!"
Lucia McLaren,
Johnson Becker, PLLC
"I love Likeable Lawyer courses. They have been the most practical CLE I have ever taken."
Thomas Brinsko,
Attorney, BIC Alliance
"One of the best classes I have attended. It was very thought-provoking with real-world scenarios and important human/emotional insights which will be useful in dealing with clients."
Henry Koltys,
Mediation for Resolution
"Excellent instructor and valuable material on working more effectively with clients and lawyers. Filled with thoughtful suggestions that will enhance my legal skill."
Patricia J. O'Donnell,
Baker Hostetler
"If I were king of the world, courses like this would be mandatory. This course will help to make me not just a better lawyer, but a more effective communicator with family, friends and others."
Eric Rathburn,
Attorney