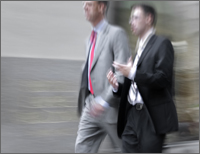 "Extremely practical how-to course filled with useful negotiation tools. Provides insight into diagnosing the needs of your negotiation opponent that will allow you to increase the chances of obtaining successful outcomes."
Shawn Doorhy,
Faegre Baker Daniels LLP
"A fun and engaging discussion that was very relevant and way better than most CLEs."
Mark Asbill,
Wells Fargo Legel Department
"It is hard to come up with something fresh in a negotiation course. This one offers several gems."
J. Stanton Curry,
Gallagher & Kennedy
"The program content is suited well for lawyers no matter what area of practice. Both in handling client relationships and adversary relationships with other lawyers. It is a good value. "
James P. Burnett,
Lutz, Burnett, McDermott, Jahn & King
"This course was filled with concrete examples, and teaches important fundamentals for improving lawyer and client relationships."
Michael Russ,
King and Spalding