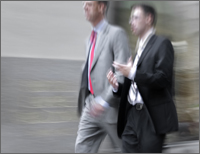 "One of the best—and certainly the most practical—seminars I have taken on negotiation."
Paige Williams,
FedEx Corp. Legal Dept.
"The most interesting and useful MCLE courses I have ever taken in my 20+ years of taking courses."
Jeremy Katz,
Pinnacle Law Group
"One of the best classes I have attended. It was very thought-provoking with real-world scenarios and important human/emotional insights which will be useful in dealing with clients."
Henry Koltys,
Mediation for Resolution
"Rather than sit through hours of lecture, do yourself a favor and attend courses by The Likeable Lawyer to gain practical insight to improve your practice."
Jessica Hackett,
Baker Donelson
"As a college professor, I am keenly aware that it is just as important in the delivery of information as it is in the content of that which is being delivered. I am pleased to say that The Likeable Lawyer was successful in creating a confluence where the two met with remarkable results."
Sherman Anderson,
Attorney