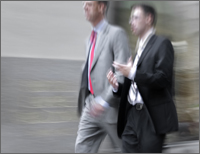 "Fantastic, helpful and insightful ... different from any previous CLE class I have taken."
Michael Schwartz,
Attorney
"Very interesting and informative CLE. One of the best that I have participated in."
Chris Bergeman,
Righi Law Group
"One of the best MCLE classes I've ever taken because it has such broad application. It's not just for interacting with clients but with all human beings, and we could all use a primer or refresher on that! As I sat in class I thought to myself: This should be taught in law school. "
Kristin Matsuda,
Attorney
"Insightful, engaging and provocative. Brian is very knowledgable and an excellent speaker."
Claire Miller,
Alcoa
"One of the best ethics seminars I have seen in a long time. The examples and scenarios effectively illustrated the points made. Exceeded my expectations. "
Kate Patterson,
Patterson Ehrhardt, PLLC