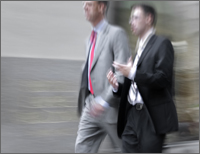 "This course is an eye and ear opener. Common pitfalls with clients will be easier to spot and more easily remedied after taking this seminar."
Alexis Johnson,
Attorney
"This course gives a thoughtful and well-grounded analysis of persuasion theory. Very insightful."
Lee Mickus,
Taylor Anderson LLP
"The Likeable Lawyer's programs are dynamic and valuable, focusing you on the essence of how to achieve your professional goals."
Robert Converse,
Fulbright & Jaworski
"The class was a very good reminder of what makes people tick, how to more easily persuade them, and how to be a "likeable lawyer" for those of us for whom that is important."
Ned Menoyo,
Quinn Emanuel Urquhart & Sullivan
"The class had a lot of practical content and challenged me in concrete and believable ways."
John Shenk,
Ervin, Cohen and Jessup