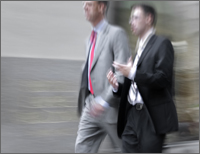 "This seminar is critical for every person who wants to succeed in the practice of law and understand and overcome the challenges inherent with representing clients."
Guy Brown,
Attorney
"This course gave me practical tools I can use to be more effective in my work, and did it in an entertaining way. Like other Likeable Lawyer programs, this was enjoyable, effective, and a convenient way to meet CLE requirements."
Chris Kallaher,
Direct Energy
"Best CLE I've had. The technology was top notch and the presenter was like talking to a friend or co-worker. This will help me to deal better with my clients in the future."
Jeremy Hays,
Attorney, Myler Disability
"This course gives lawyers tools to better balance life and work."
Mark Glasser,
King & Spalding
"Extremely practical how-to course filled with useful negotiation tools. Provides insight into diagnosing the needs of your negotiation opponent that will allow you to increase the chances of obtaining successful outcomes."
Shawn Doorhy,
Faegre Baker Daniels LLP